Hesburger Mobile App

- The fastest fast food ever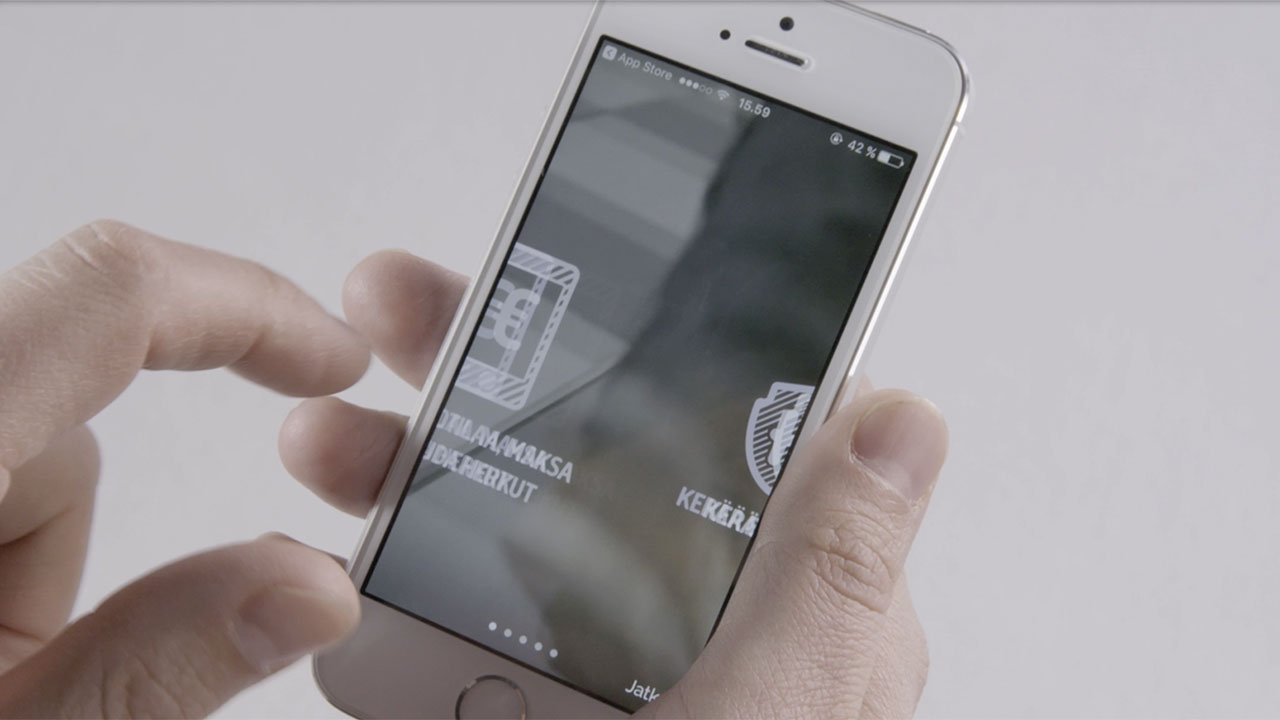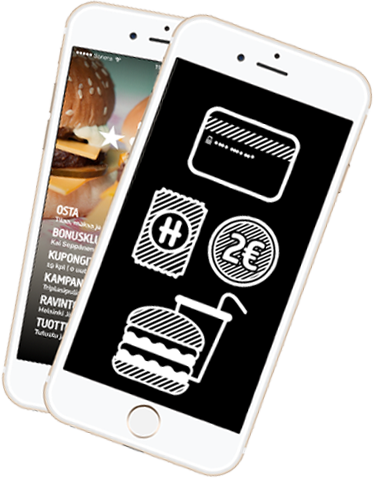 Background
Hesburger wanted to modernise its Bonus Club -loyalty program. With 250 000 active members the loyalty club was a significant part of Hesburgers business, but it had been running for 20 years without any major improvements. It was time to take it to the next level.
Approach
We started our work by listening to actual Hesburger clients and Bonus Club members. This was done by executing a thorough consumer insight study. From the data gathered by client interviews we build a value map, which gave us the right direction and ideas for what the new Bonus Club should be.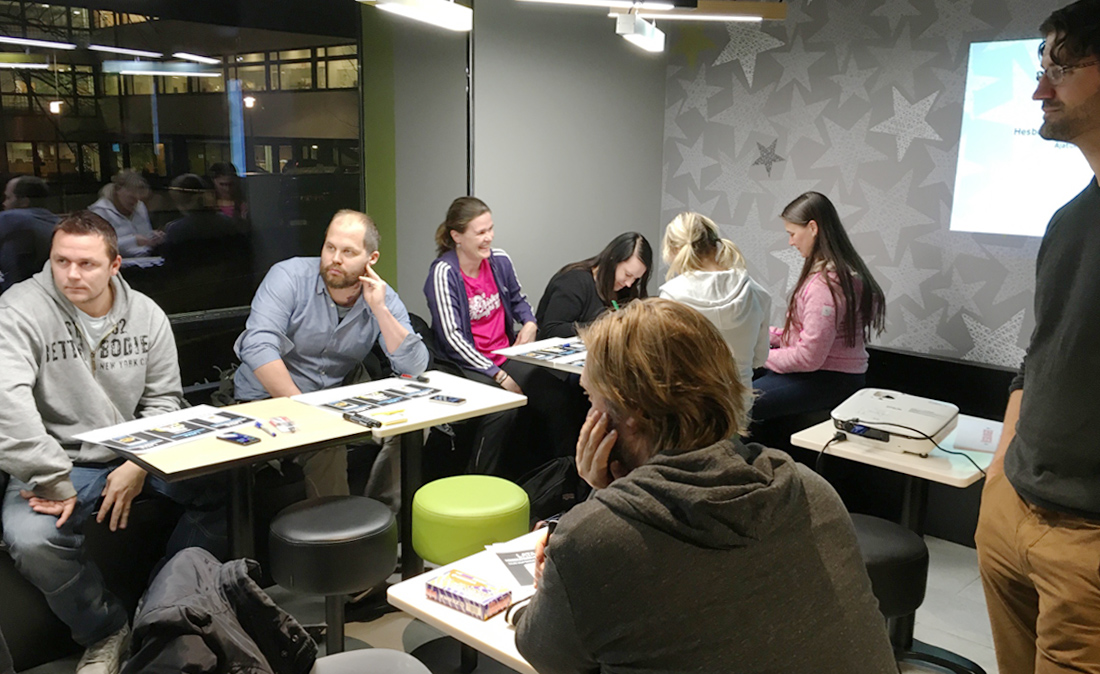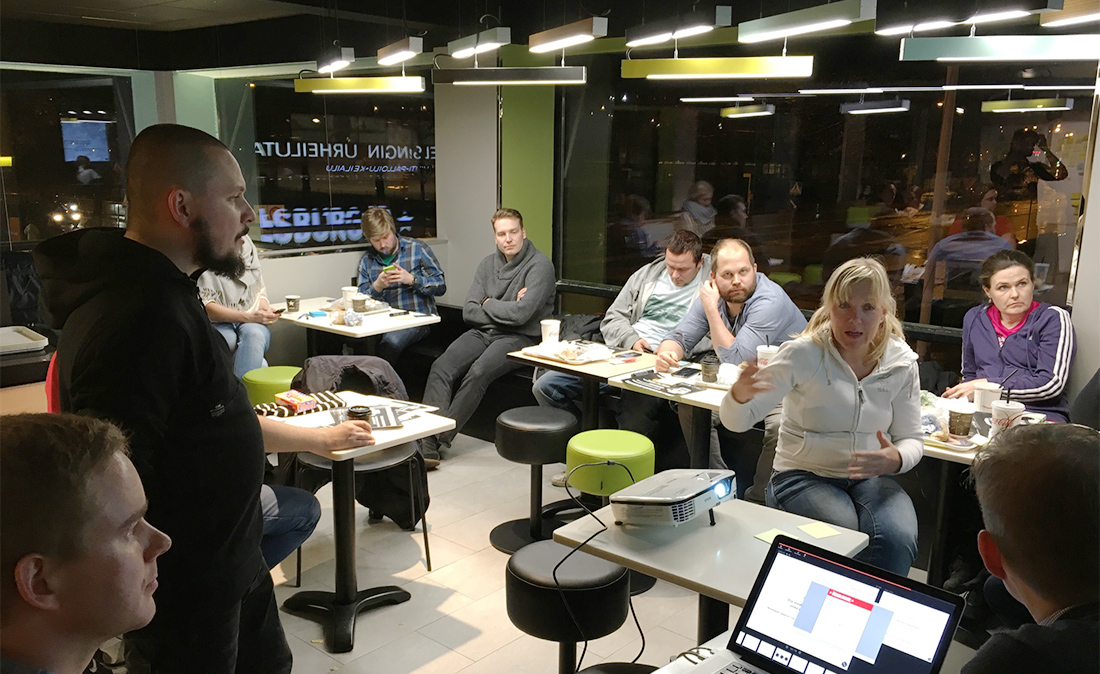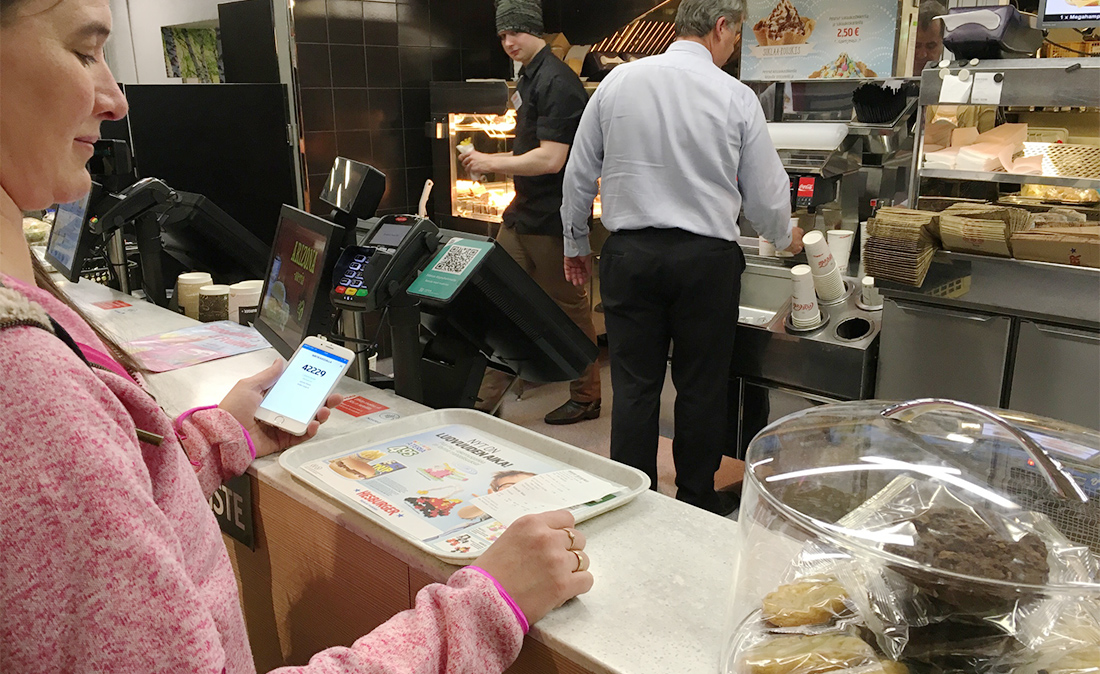 Consumer Insight
The clients message was clear. They wanted to get rid of using yet another plastic card in their wallet. They wanted to see how their loyalty status was developing and they wanted to have the popular Hesburger paper coupons with them all the time, not hanging on the refrigerator door.
Most interestingly: The clients wanted to be able to order and pay for their food in advance to save time in the restaurants and make their Hesburger experience more convenient.
Solution
Our solution for Hesburger was to design and build a mobile application which answers to all the needs and wants of their clients. Our aim was to bring a Hesburger restaurant to clients pockets.
The project was carried out as an extensive multi-company project using agile project model. Hesburger clients and employees were involved during the whole project in co-creation workshops to keep the user experience solid all the way from a phone to the restaurant.
A lot of time and effort was put into the design and user interface design. From the beginning it was clear that there can't be any short cuts in the application compared to a traditional restaurant client. This means that a user can make all the custom wishes to his or hers order.
In addition we thought about features which would add value for customers using the mobile application rather than visiting a Hesburger restaurant.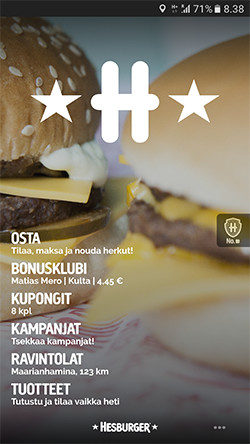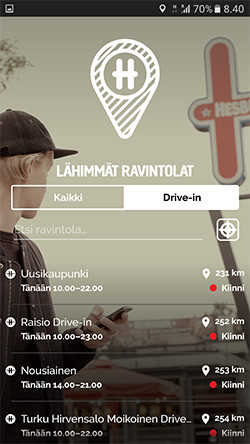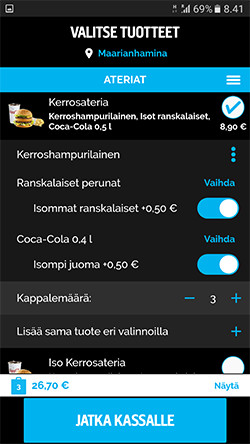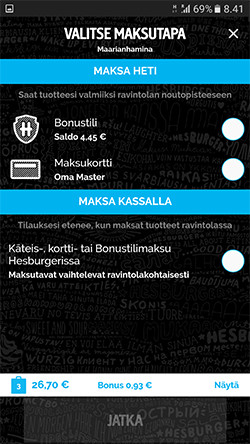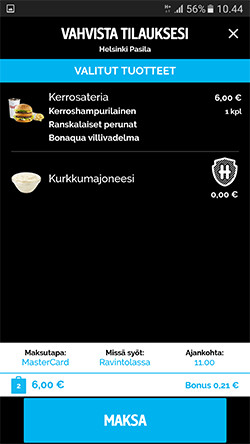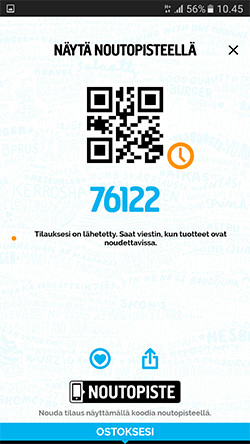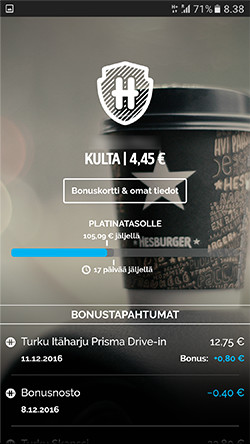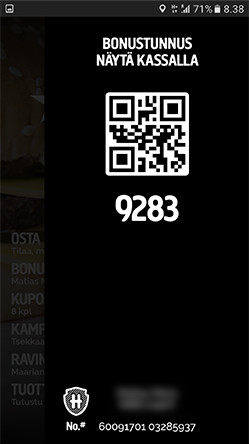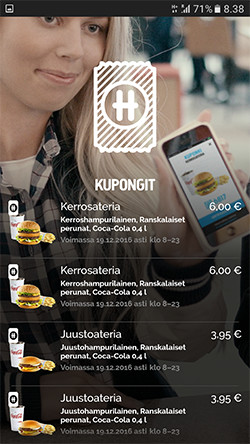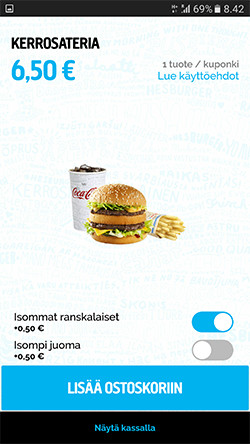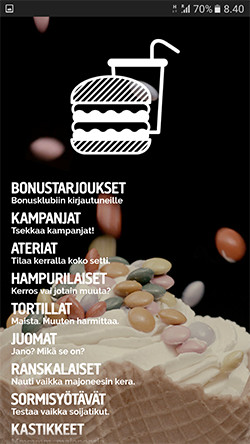 Marketing and retention
Many brands are faced with the same challenge with mobile applications. First how to get people to download the application, then how to get people to use the application and most of all how to keep the application usage active.
Again we involved consumers to help us to choose the right marketing messages to launch the application. By asking the clients we found three key messages which were used in all communication during the application launch phase:


1. Coupons now in your phone
2. Order and pay with your phone
3. Download the app and get a special offer

To see which channels and messages work best for marketing the app, we build a detailed measuring strategy and tools based on top of Google Analytics. The strategy model used is called R.E.A.N: Reach - Engage - Activate - Nurture. The same tools and method are used to measure the sales and consumer behaviour in the application and in all stages of the purchase funnel.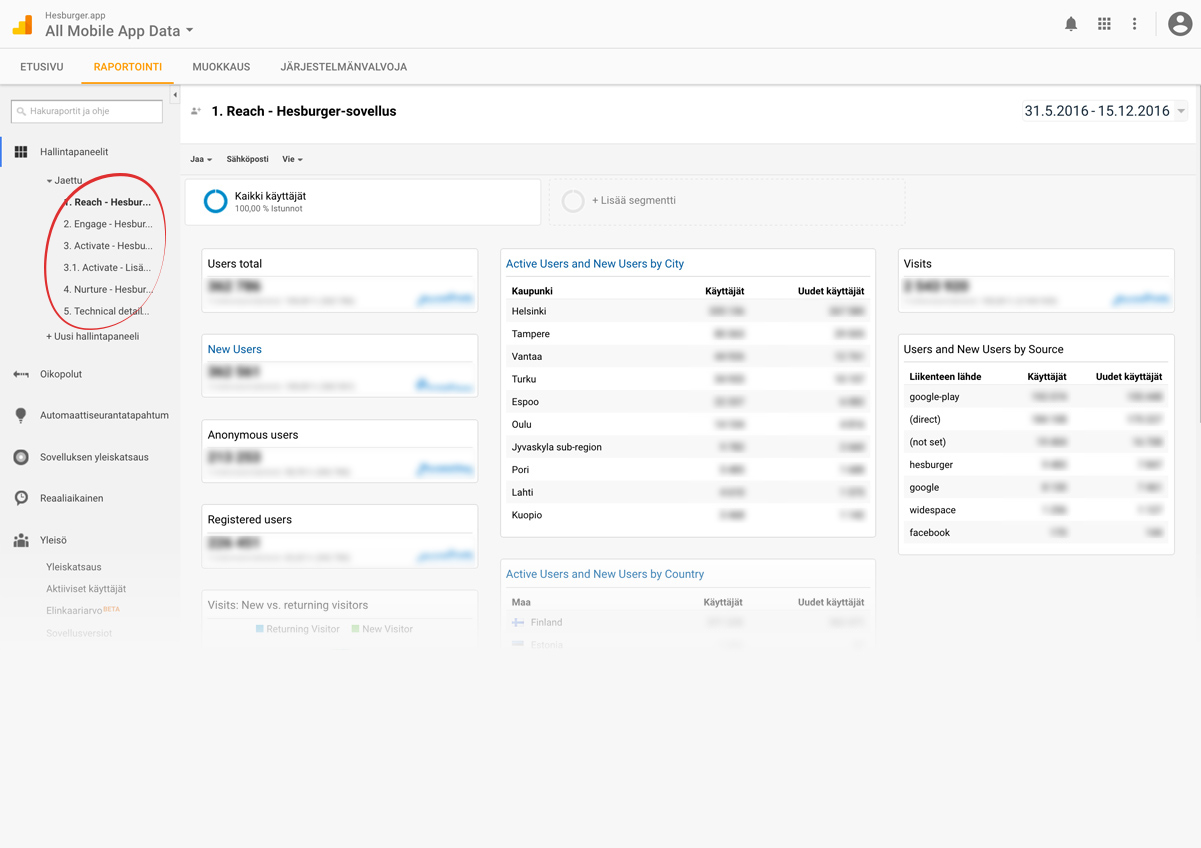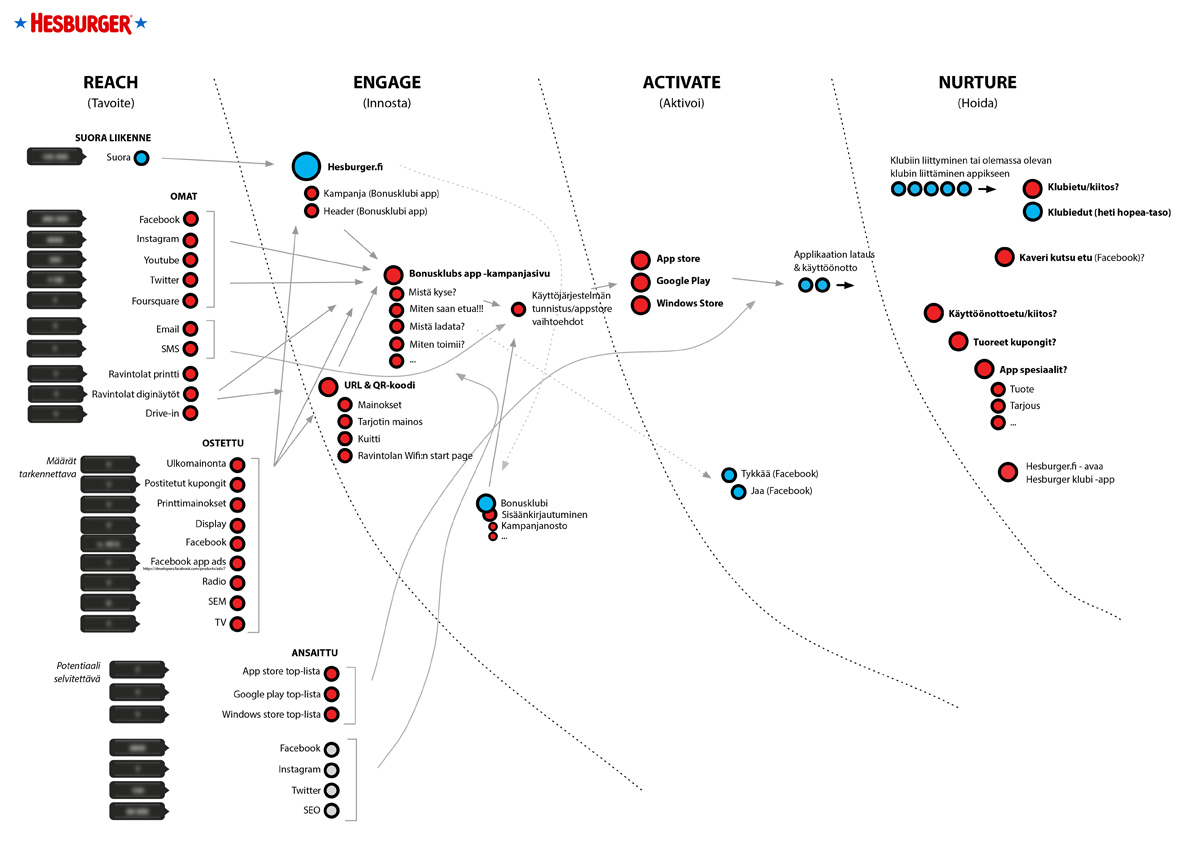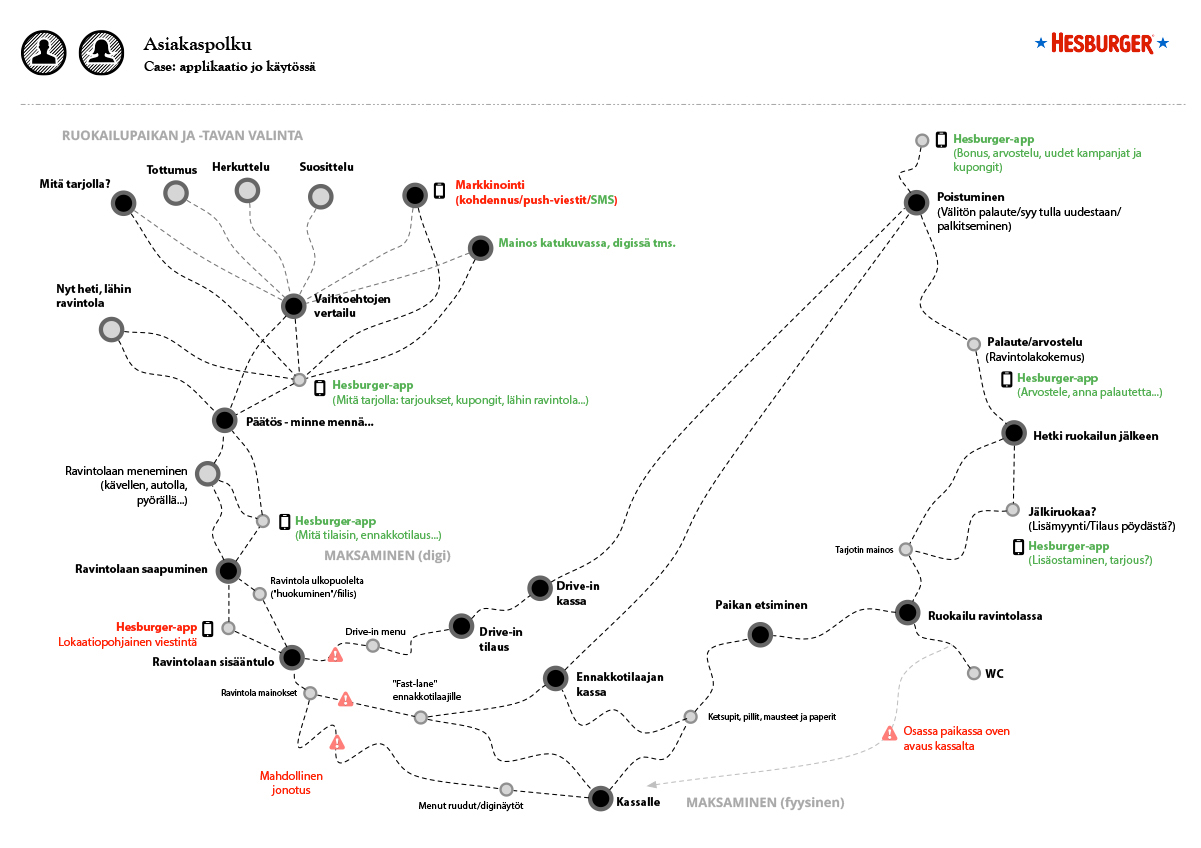 The media selection of the launch included
All Hesburger own media and restaurants
TV
SEM
Radio
Outdoor advertising
Google app install ads
Google display network ads
Mobile display ads
FB app install ads
FB post boosts
Instagram app install ads
App
installations
+ 2 275 512
New Loyalty
Club Members
+ 1 658 961
+ 100 % growth
Visits
in the app
+ 23 879 404
Average time spentin the App
4:30
min
Amount of
purchases made
+ 4 598 349
Apple App Store
NR. 1
Since the June 2016 release Nr. 1 in Apple App Store rankings in Food & Drink Category (Finland).
June - November 2016
Google Play
NR. 1
Since the June 2016 release Nr. 1 in Google Play rankings in Food & Drink Category (Finland).
June - November 2016
Average user review
in both stores
+ 4 stars
INCREASE IN THE AVERAGE PURCHASE VALUE OF A CUSTOMER
+25%
Compared to traditional Hesburger restaurant client
Conclusion
Selling hamburgers used to be the most analogue of businesses. The Hesburger application servers as a perfect example on how digitalisation can enhance a traditional business and create totally new revenue streams and possibilities.
In fast food business, where best location and driving self service is crucial for success we truly hit the jackpot by bringing a Hesburger restaurant in the pockets of Finnish consumers.
Quotes
"One of the rare well produced Finnish mobile apps. I am not a heavy user of Hesburger but this app makes go there more frequently"
- User in Google Play
"This really is good! Rarely you see so cool and well functioning mobile app"
- User in Google Play
"I wish all mobile apps would be so well made!"
- User in Google Play
"Finally there is a mobile app where money used and develpoment made shows! Really simple and usable software. Exellent!"
- User in App Store
"This app worked like a charm from the beggining! It really felt that it gives added value for me. Way to go Hesburger!!"
- User in App Store
"As a loyal customer of Hesburger I expected a finalised and good application, but this exeeded all expectations. It really is an app that saves time and delivers added value. Perfect job!!"
- User in App Store
Client

Hesburger is the largest hamburger chain in Nordics with 440 restaurants in 7 countries.